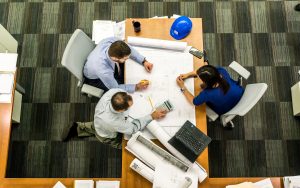 Do you find it hard to collaborate with people on the other side of an issue?
You might be wondering, "why would I collaborate with someone I don't agree with?".
Well, the answer is simple.  That's how we co-exist.  Further, that's how we progress.
The world is full of differences in opinions, beliefs, needs, wants, etc.  Because we can benefit from finding common ground, we must collaborate beyond just our allies.
Take a Seat
Collaboration is about more than working with people on the same side of an issue.  It's about finding a seat at the same table as your "opposition".  If we are all in this together, then solutions must come from all sides.
How can we meet in in the middle if we're forced to take sides?
Triple Bottom Line is a core value of mine.  This means finding balance on unstable grounds.  In fact, fence sitting is a position I've found myself in more than once.
Many times, it's an uncomfortable place to be.  But, it allows me to mediate the matter.  Gain a bird's eye view of both sides so I can better understand all objectives, goals, and motives.
Problem Solving
Instead of asking "whose side are you on?", ask "how can we solve this problem together, in a mutually beneficial way?"
If there's interest from both sides to find an answer to that question, great, collaborate!  However, if you can't find one inch of common ground, gracefully walk away and work on your own thing.  Don't make your mission to take someone else down.  Focus on building your mission up.
Global Goals
About two years ago, I mapped out a plan to write a blog series about the 17 Sustainable Development Goals (SDGs) – aka Global Goals.   My goal was to connect each SDG to an experience and enrich the reader's experience on my blog.
Here I am, the last stop.
Goal #17 – Partnerships for the Goals
"Strengthen the means of implementation and revitalize the global partnership for sustainable development."
Partnerships come through collaboration.  And, I'm a fan of "Think Global, Act Local".  What we do at home has a ripple effect that reaches outwards.  Start small and scale up.
As a strategic advisor, I collaborate with many people.  These past few years have awarded me with unique experiences and connections.  I've had the opportunity to work with some amazing independents and entrepreneurs.
While some connections were short term, many of the lessons I learned along the way will be with me for the long run.
This is Only a Test
Life tests us.  It puts up roadblocks to challenge us along the way.  It pairs us with people who do not think the same.  This is how we learn.  This stretches our mind so that we don't get stuck in a silo.
Being a change agent does not come with a set of rules or guidebooks.  You find your way by taking chances, trying something new.  Your collaborative contribution is only as effective as you are.  Don't take each issue so seriously.  A lesson I have been tested on more than once.
Empowering Sustainable Growth
While my core values remain firmly intact, my day to day activities continuously evolve. I choose work that resonates with me, and work with people I can empower to grow outside the box.  
This summer, I took on a new role and direction by collaborating with an Investment Advisor.  It's a second chance with finance. This time with a social impact twist to align with my goals.  I'll be working on a variety of projects including the development of an impact investing framework for his practice.
Once upon a time, I would have denied this opportunity.  Blocking it because there are parts of the financial sector that I do not agree with.  However, where does that get me?  Divided and unwilling to collaborate with key players in achieving the Global Goals, that's where.
"If you have a purpose in which you can believe, there's no end to the amount of things you can accomplish." – Marian Anderson
I found a seat at a table where there are sometimes differences of opinions, beliefs, needs, and wants. I'm embracing a language that for many years, I would not speak.  All this because I believe that we can come together and work towards finding solutions.  After all, the Global Goals were designed with this very idea in mind.   
How have the Global Goals inspired your goals?  Share in the comment field below or connect on Twitter.
Please follow & share on your favorite network: