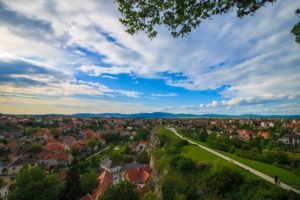 Do you believe that a city can be designed to allow for sustainable development?
Last month I made a big move.  I relocated from a little city to a small town about 30 km away.  Though the distance between my old and new home isn't much, I feel like I am in a whole new world.
There are many things that make a city or town great.  Throughout history, people have flocked to certain spaces in search of a better quality of life.  Often people relocate for work or family.  Others relocate to embrace that sense of belonging to a community that better suits their style.
City Living or Small Town?
As a traveler, I have seen many cities and towns.  I learned along the way that cities are not for me.  I'm not one for night life or Broadway.  Shopping and dining out aren't my thing either.  For me, green space is what makes a place great.  The natural landscape of a location is what catches my eye every time.
Perhaps that is why when I officially uproot from my hometown, I chose a small town with lots of trees and open spaces.  I love being able to walk or ride my bike and breathe in the fresh air. Without an abundance of cars on the road, it's that much easier.
Urban Development
Out on a bike ride, I enjoyed the shaded streets and mature trees.  Riding along the water's edge in this beach town, I embraced that on the other side of the road there was lush forest rather than million dollar homes.  But then I saw it, a sign.  "Public Notice: Subdivision Development".  Could it be true?  This beautiful green space that provides a cool refuge on a hot day will be cut down to build more houses?
Yes, it's true.  Development happens every day.  All around us new homes are built at the expense of unique ecosystems.  Though I agree with the idea of growth and expansion, I firmly believe that it cannot be done at the expense of Nature.  We need Nature to be healthy and strong so that we can be healthy and strong.
City Planning for Global Goals
If we want to achieve the whole of these Global Goals, it requires us to see the connections and draw the lines from one goal to the next.  In order to take action on climate, reduce poverty, eliminate hunger, we need to get more serious about how we are developing the places where we live and play.
When city planners meet with developers and investors, it's important that they go to the table with something written in stone.  Whether it is a local by-law, provincial mandate, or federal law, it is imperative that the environment has a voice in the negotiations.
My wish list for how we can keep cities and towns green:
A generous designated percentage of landmass is natural green space – wetlands and forests for example. These areas cannot be developed on for personal use; instead they will be managed by local organizations for public accessibility as parks, recreational spaces, and live classrooms for growing minds.  A portion of these spaces can also be designated as agroforestry or permaculture projects – feeding the community while nourishing the Earth.
Accounting for the ecosystems – that means a financial assessment of the local and global impact of preserving ecosystems vs paving over them. The value added by natural ecosystems is priceless; clean air, clean water, and general health benefits are just a few features these spaces provide to the community.  Despite being priceless, there is a way to quantify these qualities.  If records are created to show the economic benefit of trees for example, it will be easy to do a comparative cost benefit analysis against what developers are offering up for permission to build on pristine land.
Brownfield restoration projects and retrofitting older homes – prior to paving paradise and putting up luxury homes, a full land survey needs to be done and carefully considered. If there are areas in the city or town which homes exist, but are abandoned or run down, is it possible to restore these homes or even remove them to build new?  How about brownfields?  It takes years, even decades to restore them, but if we don't start today with an effort as small as planting sunflowers, clover, or hemp, these plots of land won't remediate themselves in any hurry.
Accessible transportation, bike lanes, and dedicated pedestrian zones – Integral to the development of any sustainable city or town is a carefully planned transit system that helps people get to where they need to go without having over dependency on a vehicle.  Also, by incorporating bike lanes and dedicated pedestrian zones, not only will emissions be reduced by keeping cars off the road, but the general health of citizens will improve due to more opportunities for exercise and time spent outdoors.
Ahead of next week's #UNGA events, play your part & help us tell everyone why the #GlobalGoals matter. pic.twitter.com/9T0DqH50SD
— United Nations (@UN) September 16, 2016
As we celebrate our first year of the acceptance of the Sustainable Development Goals, sit back and think about how you can play a part in the plan. Considering that one goal's success supports another, can your contribution come down to where you call home and how you engage in your community's development?
I'd love to hear what you think about this topic & learn about initiatives in your community that makes it more inclusive, safe, resilient, and sustainable.  Please feel free to comment below or on Twitter.
Please follow & share on your favorite network: