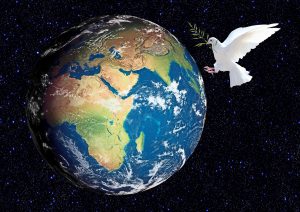 At the core of the 17 Global Goals, there is a call to action.  One that asks individuals to actively participate in sustainable development across the globe. 
Whether you work at the local or global level; in health care, environmental restoration, or finance, it doesn't matter – everyone has a role to play.
Goal #16 ~ Promote just, peaceful, and inclusive societies
The targets behind this goal are vast and require fundamental change to regulatory systems and dated ideologies.  Success lies in empowering global citizens to take action locally, offering inspiration and ideas to the community at large.
Are you looking to get inspired? Here is a small collection of thought provoking quotes by some of the greatest leaders our world has known.  Enjoy!
"Peace comes from within. Do not seek it without." ~ Buddha
"If you want to make peace with your enemy, you have to work with your enemy. Then he becomes your partner." ~ Nelson Mandela
"I was once asked why I don't participate in anti-war demonstrations. I said that I will never do that, but as soon as you have a pro-peace rally, I'll be there." ~ Mother Teresa
 "Peace cannot be achieved through violence; it can only be attained through understanding." ~ Ralph Waldo Emerson
"The intuitive mind is a sacred gift and the rational mind is a faithful servant. We have created a society that honors the servant and has forgotten the gift." ~Albert Einstein
"Peace is its own reward." ~ Mahatma Gandhi
"We need love, and to ensure love, we need to have full employment, and we need social justice. We need gender equity. We need freedom from hunger. These are our most fundamental needs as social creatures." ~ David Suzuki
"Every social justice movement that I know of has come out of people sitting in small groups, telling their life stories, and discovering that other people have shared similar experiences." ~ Gloria Steinem
"Until the great mass of the people shall be filled with the sense of responsibility for each other's welfare, social justice can never be attained." ~ Helen Keller
"Our investments in social justice and basic needs are as vital to our future as fiscal and macroeconomic reforms. A nation deeply divided will not stand. And it certainly will not move forward." ~ Gloria Macapagal Arroyo 
"Sustainable development is the pathway to the future we want for all. It offers a framework to generate economic growth, achieve social justice, exercise environmental stewardship and strengthen governance." ~ Ban Ki-moon
"Economic issues are a subset of social justice. Social justice is unimaginable without economic justice. Isn't that obvious?" ~ Rick Perlstein
"If you want to end the war then Instead of sending guns, send books. Instead of sending tanks, send pens. Instead of sending soldiers, send teachers." ~ Malala Yousafzai 
"Darkness cannot drive out darkness; only light can do that. Hate cannot drive out hate; only love can do that." ~ Martin Luther King, Jr.
"When the power of love overcomes the love of power, the world will know peace." ~ Jimi Hendrix
"You never change anything by fighting the existing. To change something, build a new model and make the existing obsolete!" ~ Buckminster Fuller
"Changing the structure and rules of the global economy will require a mass movement based on messages of compassion, justice, and equality, as well as collaborative and democratic processes … If we stay positive, inclusive, and democratic, we have a truly historic opportunity to build a global movement for social justice." ~ Medea Benjamin
"It is not enough to be compassionate – you must act."- His Holiness The Dalai Lama
"Do your little bit of good where you are; it's those little bits of good put together that overwhelm the world." ~ Desmond Tutu
"Never doubt that a small group of thoughtful, committed citizens can change the world. Indeed, it is the only thing that ever has." ~ Margaret Mead
"The people are the only ones capable of transforming society."- Rigoberta Menchu
"All we are saying is give peace a chance." ~ John Lennon
Which quote is your favorite?  Do you have one that didn't make the list?  Comment below, I'd love to hear from you!
Please follow & share on your favorite network: